Rev. Isaac Howard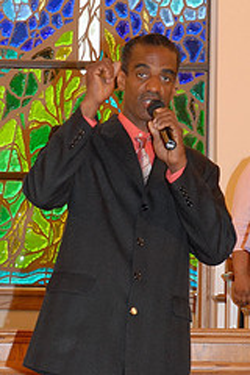 Singing praises to God since a child and delivering the preach Word since the age of 16, Reverend Isaac E. Howard has been blessed to enjoy the affiliation of many churches, religious organizations and gospel groups throughout the years.
He is a carpenter by trade, and an evangelist, songwriter, pianist, singer and music director by calling. He is the proud father of two children, Shavette and Solomon, and the doting grandfather of three granddaughters.
From his spiritual background and through the leading of the Holy Spirit, Reverend Howard founded Howard Ministries in 2006. Howard Ministries is a not-for-profit organization that serves and encourages the community at-large; rendering services in state and out-of-state; at churches, prisons, nursing homes, mental health facilities, family reunions, and anywhere else the Lord leads.
In addition to being the founder and director of Howard Ministries, Reverend Howard is the Assistant Pastor to Pastor Jeffery Johnson at Mount Calvary Baptist Church in Fairfax, Virginia. He also directs one of Mount Calvary's choirs.
Reverend Howard maintains a full schedule, working for Jesus in any capacity he can. In January of 2009, he released his 6th recording, "It's Gonna Be Alright". With this release, Reverend Howard continues to revive the gospel and spiritual music of old. The DVD includes a special duet with his father, the late Bishop Norman Howard. In September 2013, Reverend Howard and The Combined Gospel Choir did a live recording entitled, "Oh Magnify the Lord with Me".
Howard Ministries sponsored its first missionary trip October 2-11, 2010, where Reverend Howard led a team to serve in Les Cayes, Haiti. Howard Ministries sponsored its second missionary trip October 24-26, 2011, where Reverend Howard served in Port of Prince, Haiti.